Time: 17 September at 21:00 - 18 September at 04:00
Location:
新北市工商展覽中心 New Taipei City Exhibition Hall
新北市五股工業區五權路一號 No.1, Wu Chuan Road, Wugu Industry Park, New Taipei City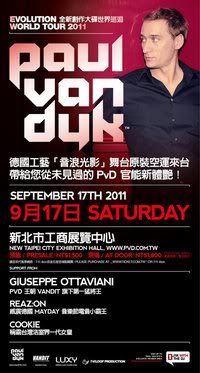 More info:
[quote]保羅凡戴克 'Evolution' 世界巡迴台北站
theLOOP presents Paul van Dyk 'Evolution' World Tour
【購票訊息|Pricing】
預售票價:NT1,500 (即日起至售完為止)
現場票價:NT1,800
洽詢專線:0955904600
官方網站:www.pvd.com.tw
網路購票:年代售票 ticket.com.tw/dm.asp?P1=0000012089
Limited presale: NT$1,500
At door: NT$1,800
For more information please go to : pvd.com.tw
Online presales: ERA Ticketing ticket.com.tw/dm.asp?P1=0000012089
此活動為門票售罄活動,為維持品質及人數控管,門票數量有限,售完為止。
THIS WILL BE A SOLD OUT EVENT. Tickets are limited to ensure safety and quality of the event.
【預售端點|Presale Spots】
台北 LUXY(台北市忠孝東路四段 201 號)
年代售票全省新學友、金石堂
全國 7-ELEVEN ibon 生活便利站
LUXY (201 Sec.4 Zhongxiao E. Rd, Taipei, Taiwan)
ERA ticket booths @ KingStone & Senseio Boookstores nationwide
7-ELEVEN ibon nationwide
【藝人介紹|Artists】
Paul van Dyk

World's #1 DJ in 2005, 2006


'Evolution' audio/visual stage directly imported from Germany


Presenting you with the PvD you've never known!!!
Paul van Dyk, Grammy Award-winning electronic dance music DJ, musician and record producer, who grew up in East Germany, is coming to Taipei on Sept. 17th, 2011! He was one of the first artists to receive a Grammy nomination in the newly added category of Best Dance/Electronic album for his 2004 release Reflections. He was named World No.1 DJ in both 2005 and 2006. Paul van Dyk is the only DJ who has remained in the World's Top 10 DJs since 1998. As of 2007, he has sold over 4.5 million albums worldwide.
Giuseppe Ottaviani|PvD 王朝 VANDIT 旗下第一猛將
PvD's own record label VANDIT's first knight
DJ Cookie|台灣最 hot 一代浩室女皇
Taiwan's very own Empress of house
Reaz:on|威震德國 MayDay 音樂節電音小霸王
Taiwan's only DJ to rock Germany's prestigious MayDay Music Festival
【場地簡介|Venue】
theLOOP has spent more than a year of efforts and gone through a lot of trouble with numerous petitions to bring you the "New Taipei City Exhibition Hall" as the newest mega party venue for all party people in Taiwan.
Located in New Taipei City, the structure of the building is 3 floors tall. It is a highly functional building with emergency center, ATM, plenty of restrooms, and basement with 421 parking spaces. For directions in English click this link - tcwtc.com.tw/eng/howtogo-1.asp
【注意事項|Notice】
Persons under 18 without identification are not allowed under government law.
Photographing without permission is strictly prohibited.
Outside food or drinks are strictly prohibited.
Any usage, transactions of, or possession of drugs will be reported immediately.
Weapons of any form are strictly prohibited.
Whistles or any sounding tools are strictly prohibited.
Dress well. Do not tempt your fate with slippers or shorts.
We reserve the right to refuse service to anyone.[/quote]
More at: http://www.pvd.com.tw/