Some scientists are now claiming "milking the lizard, choking the chicken, etc." lowers the man's chances he will get prostrate cancer later in life.
No, Peewee, just try to keep it under wraps when you're away from home.
Taipei Times' News of the Weird this past weekend included a story about a man who paid women US$10 to rub his"spilt semen (he told them it was "facial cream") on their faces, which he took photos of and then charged people money to view on the internet. My guess is he'll make part II of Common Pursuit.
Does wrestling with the cyclops count?
What about "flogging the dolphin"?
I read that it was the act of ejaculation that was beneficial, but the method of achieving that end was irrelevant. So sexual intercourse with another person would be just a beneficial as sex with yourself. But hey, you do it your way, and I'll do it mine…

[quote]with another person[/quote] :shock: huh ? with someone else ? :?
I read that it was the act of ejaculation that was beneficial, but the method of achieving that end was irrelevant. So sexual intercourse with another person would be just a beneficial as sex with yourself. But hey, you do it your way, and I'll do it mine…

[/quote]
Hahaha!
Of course you're correct that ejaculation – no matter how you arrive at it – is the key to good prostate health, but I did represent the articles accurately; it was masturbation, not ejaculation, that was highlighted in the news reports.
That brings up an interesting question. Is it scientists or reporters – or both! – who can't imagine having sex regularly enough to clean their pipes that they immediately infer masturbation is the only way to keep out excess, unhealthy fluid?
Here's one report that explains why ejaculations from sexual activity were excluded from the study: Masturbating Lowers Prostate Cancer Risk -Study
Frequent masturbation, particularly in the 20s, helps prevent prostate cancer later in life, according to new research.

Australian scientists have shown that the more men masturbate between the ages of 20 and 50, the less likely they are to develop the disease that kills more than half a million men each year.

They suspect that frequent ejaculation has a protective effect against the cancer because it prevents dangerous carcinogens from building up in the gland…

In a survey of 1,079 prostate cancer patients and 1,259 healthy men, Giles and his team discovered that men who ejaculated more than five times a week in their 20s were a third less likely to develop an aggressive form of the disease.

The findings contradict previous studies which suggested that having a variety of partners or frequent sexual activity could increase the risk of prostate cancer by 40 percent.

But Giles said the earlier research concentrated on intercourse, whereas his study focused on masturbation. Infections caused by sexual activity could account for the different findings.

"Men have many ways of using their prostate which don't involve women or other men," he added.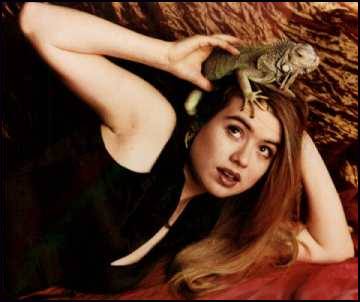 This picture is more sexy after reading this thread.
[quote="The Guardian"] America gets touchy about 'self-dating'
Lawrence Donegan in San Francisco
Sunday September 7, 2003
The Observer
After years of mercilessly chronicling America's politics, social mores and cultural hang-ups, cartoonist Gary Trudeau has discovered that there is at least one private activity that remains taboo; masturbation, or, as one of the characters in the latest instalment of his famed Doonesbury strip calls it, 'self-dating'.
One-in-a-bed sex romp, masturbation; call it what you will, it's still a notion too far for an estimated 300 of the 700 newspapers across the US that regularly carry the cartoon.
Instead of enjoying a new strip today - in which Trudeau's characters discuss a recent study published in New Scientist suggesting that frequent masturbation might help prevent men developing prostrate cancer in later life - readers of those easily shocked newspapers will be offered a strip that was first published last year.
'We felt it was something our readers would not like, and we did not have a good reason for running it,' said Diane Bacha, assistant managing editor of the Milwaukee Journal Sentinel , whose initial reluctance to publish the 'self-dating' strip sparked a prudish debate among editors about masturbation.
'It seems kind of obvious to us that this was beyond the reasonable boundaries of good taste,' said Frank Fellone, deputy editor of the Arkansas Democrat-Gazette. ' Other newspapers may feel differently.'
Coming to Trudeau's defence was the St Louis Post-Dispatch , which will publish today's Doonesbury . 'Our policy is not to censor our comic strips,' a spokeswoman said.
Nevertheless, Universal Press, which syndicates the cartoon across America, agreed to offer newspapers an alternative instalment. 'For some papers, the use of the m-word per se , no matter how deftly it is referenced, may cross the line,' Universal's editor Lee Salem said
This is not the first time that newspapers have refused to run Doonesbury . In the run-up to the 2000 presidential election, at least two editors pulled an instalment that accused George W Bush of abusing cocaine.
Trudeau, himself, doesn't appear unduly worried about this latest spat. 'There are certain words that trigger a response simply because they've never before appeared in a family-friendly context like the comics - "Masturbation" is obviously a loaded word, but as a descriptor, it's not actually vulgar or coarse,' he said. 'And the strip in question isn't actually about masturbation or cancer, it's about the inability of two particular adults to find a mutual comfort zone to discuss a serious subject.'
Nevertheless, Trudeau said his decision to allow newspapers to run an alternative strip did not mean that he would start supplying replacements to appease the sensibilities of easily offended editors.
'Younger readers are unlikely to be shocked or confused by anything they find in Doonesbury,' he said. [/quote]
And here is what the editors didn't want you to see: