That's the stuff of nightmares.
Coming soon to a debate stage near you.
It just designed the Serenity ship in my re-imagined firefly in the Star Trek universe fanfic for me.
Don't know if Kaylee would approve.
Wasn't expecting @RickRoll to be so edgy…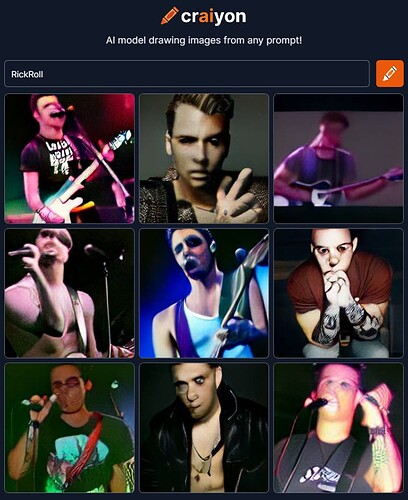 Neither did I!


Time to start a band. I can play cowbell.

Maybe we all can play cowbell!

But you're on lead vocals…are you sure you can sing and cowbell at the same time?
Of course!
My voice is almost the same frequency as a cowbell already.
The resonance effect will attract herds!
Didn't realize @gain was so sportive…
How did craiyon know what I look like? The bottom right is obviously an image of me and Voldemort after our transporter accident.