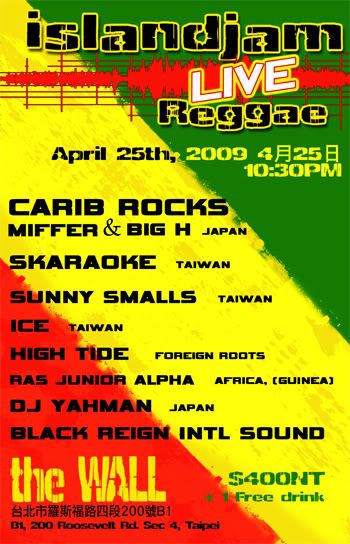 ISLANDJAM present the first in a series of live
reggae shows, which will feature the best of
Taiwan's reggae and special guests.
This show will feature [color=#008000]CARIB ROCKS[/color] and [color=#FF0040]MIFFER[/color]
from Japan. Taiwan's talented band, [color=#FF8040]SKARAOKE[/color]
alongside up and coming Taiwan reggae artists,
[color=#00BF00]SUNNY SMALLS[/color], [color=#0000BF]ICE[/color] and [color=#800000]RAS JUNIOR ALPHA[/color]. An the
recent winners of the ICRT Battle of the bands.
[color=#FF0000]HIGH TIDE[/color].
[color=#000080]THE WALL[/color] :bouncy:
台北市文山區羅斯福路四段200號b1
B1 200 Roosevelt Rd. Section 4 Taipei
Show start at 10:30pm - NTS400 +1drink! :lick:
Hope to see you there !
Islandjam :beatnik: