Earlier this year I read the original account of Shakleton's historic voyage.
amazon.com/gp/product/078670 … oh_product
For those who don't know the story, in 1914, explorers were racing to the North and South Pole to achieve various firsts. Ernest Shackleton was a ship captain/adventurer who put together a team to become the first to walk across Antarctica, but before they could even reach their starting point, their ship got stuck in the ice, they kept trying to get it out, but it just got worse and worse, till it was finally permanently frozen in place and eventually the ice broke the ship to pieces, so they removed the four lifeboats and the food, water and other provisions, and waited for two months on their iceflow, before it broke into pieces and they manned the lifeboats and sailed/rowed hundreds of miles across the frigid waters, with only the most rudimentary navigational devices, miraculously hitting the island they were aiming for, which had men working there at a whaling station, so they could be rescued.
Truly amazing story. They spent 1.5 years on the ice and sea without their ship, traveled hundreds of miles, and all 22 men were rescued, for which Shackleton was rightly deemed a hero. Fortunately, also, they had a photographer on board.
Here you can see their ship getting crushed in the background as some of the crew stand beside their rescued supplies.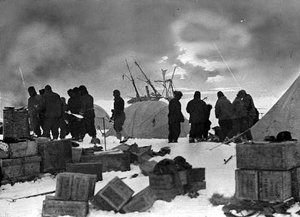 And here they're on an ice flow with their life boats.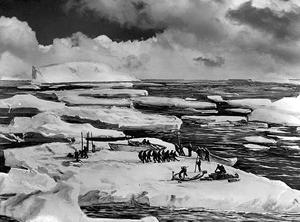 One of the most terrifying events was when giant, 12-foot leopard seals, with huge teeth, began swimming beneath their ice flows, following their shadows, and suddenly bursting through the ice and lunging at them to eat them, only to be shot dead as the men ran for their lives.
Now I'm halfway through this and had trouble putting it down to leave for work today.


amazon.com/gp/product/006073 … oh_product
Extremely well told, autobiographical account of an expert mountaineer's first-ascent of an incredibly steep, icy, cold and remote 21,000 ft mountain in the Peruvian Andes with one other climber and their miraculous climb back across a razor sharp ridgeline with overhanging snow cornices that one can easily plunge through unexpectedly or the whole snowy side of the mountain can suddenly slide down, hurling you thousand of feet down the sheer edge to certain death, until the author falls off a cliff, suffers a horrific broken knee and it is absolutely certain then that he will die on the mountain.
Even with two legs it would be a miracle to get out alive, but with just one it's clearly impossible. He knows that and he's terrified his partner will leave him to save his own life. The account is superb not just for the description of the facts but for the author's intense account of what went through his head. And just after the accident the book switches from autobiography for two pages so the partner can describe it and the partner bluntly confesses, as well, that his first thought upon learning of his buddy's broken leg was "matey you're fucked. you're a dead man" or something like that. He said it was obvious his partner would fall off the mountain with just one leg, and he actually wished that he would, because then it would be over instead of him having to attempt to rescue him and have them both die. Nor did he seem like a selfish bastard for saying that; the conditions were so extreme that was just the reality.
But incredibly they do both make it out – separately, though, because the one with a broken leg is eventually lowered down the mountain on cliffs, untill they get stuck and his weight threatens to pull them both to their deaths, so his partner cuts the rope, letting him plummet down the slope, before leaving him behind for dead, but he survives and is forced to crawl out on his own.
Here's the face they climbed up (and down).

This morning my wife asked me if I slept ok last night and I laughed, because after reading the above account I could never complain about cold or discomfort.