Answering our old age question. How much the locals got paid.
Salary information showed in first quartile, second quartile and third quartile terms P25/P50/P75
For new graduates in Engineering position.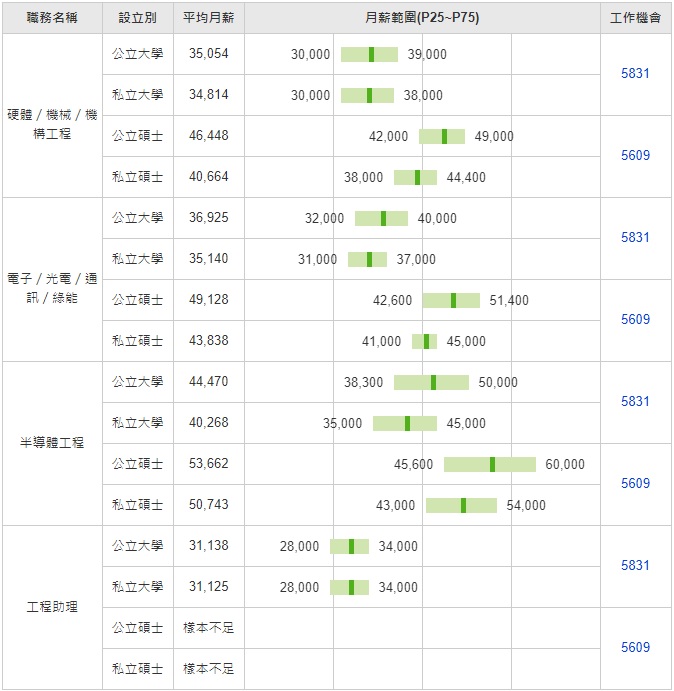 Hardware/Mechanical Engineering
硬體/機械/機構工程
Bachelor (Public) 30K/35K/39K
Bachelor (Private) 30K/35K/38K
Master (Public) 42K/46K/49K
Master (Private) 38K/41K/44K
Electronics/Optoelectronics/Communication/Green Energy
電子/光電/通訊/綠能
Bachelor (Public) 32K/37K/40K
Bachelor (Private) 31K/35K/37K
Master (Public) 43K/49K/51K
Master (Private) 41K/44K/45K
Semiconductor Engineering
半導體工程
Bachelor (Public) 38K/44K/50K
Bachelor (Private) 35K/40K/45K
Master (Public) 46K/54K/60K
Master (Private) 43K/51K/54K
Engineering Assistant
工程助理
Bachelor (Public) 28K/31K/34K
Bachelor (Private) 28K/31K/34K
Master (Public) N/A
Master (Private) N/A
For experienced engineers in various professional engineering roles.

Hardware Engineering R&D Supervisor
硬體工程研發主管 70K/86K/100K
Optoelectronics Engineering R&D Supervisor
光電工程研發主管 65K/82K/95K
Communications Engineering R&D Supervisor
通訊工程研發主管 70K/92K/108K
Other Engineering R&D Supervisor
其他工程研發主管 60K/77K/90K
Electrical Technician/Engineer
電機技師/工程師 37K/45K/50K
Mechanical Engineer
機械工程師 38K/45K/50K
Mechanical Engineer
機構工程師 41K/51K/58K
Mechatronics Technician/Engineer
機電技師/工程師 36K/44K/50K
Electronics Engineer
電子工程師 40K/49K/56K
Spareparts Engineer
零件工程師 36K/45K/52K
Hardware R&D Engineer
硬體研發工程師 45K/55K/63K
PCB Wiring Engineer
PCB佈線工程師 39K/48K/55K
(Electrical) Power Engineer
電源工程師 45K/56K/65K
Analog IC Design Engineer
類比IC設計工程師 63K/83K/98K
Digital IC Design Engineer
數位IC設計工程師 60K/81K/84K
Semiconductor Engineer
半導體工程師 47K/59K/66K
MEMS Engineer
微機電工程師 45K/56K/62K
Optoelectronics Engineer
光電工程師 45K/52K/58K
Optical Engineer
光學工程師 44K/53K/60K
Telecom/Communications Engineer
電信/通訊系統工程師 40K/53K/62K
RF Communications Engineer
RF通訊工程師 47K/57K/65K
IC Layout Engineer
IC佈局工程師 45K/60K/70K
Assistant Engineer
助理工程師 29K/33K/35K
Engineering Assistant
工程助理 27K/31K/34K
Other Specialized Engineer
其他特殊工程師 39K/48K/55K
Electronic Product System Engineer
電子產品系統工程師 43K/55K/65K
Photovoltaic Engineer
太陽能技術工程師 42K/50K/56K
Thermal Engineer
熱傳工程師 45K/55K/61K
Acoustic/Noise Engineer
聲學/噪音工程師 43K/54K/60K