From The Washington Times:
[quote]"Stop persecuting Falun Gong," screamed a woman from across the lawn, standing atop a scaffolding for photographers.
"President Bush, stop him from killing Falun Gong," she yelled, just a few minutes after Mr. Bush had urged Mr. Hu to allow his people "the freedom to assemble, to speak freely and to worship." [/quote]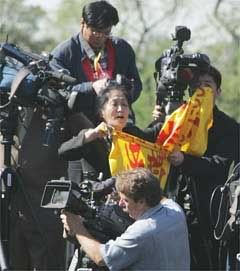 [quote]As she continued to scream at the top of her lungs, Mr. Bush leaned in toward an expressionless Mr. Hu and said, "You're OK."
The surprised Chinese leader then continued his remarks, talking about trade, security, energy and praising American ideals, but saying nothing on freedom of speech.[/quote]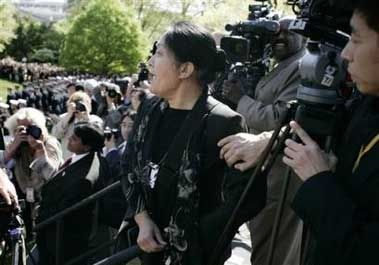 You may see the full CNN video (censored by China) HERE.
And there is more CNN coverage of the event HERE.
Bravo! Dr. Wenyi Wang! Bravo!!
It should be noted that Dr. Wang was arrested for disrupting an event and may be charged with "intimidating a foreign official" – a serious federal charge that could mean 6 months in jail. UNBELIEVABLE!!!
HERE is some more about Dr. Wenyi Wang from another diarist. Apparently she had the guts to confront Jiang Zemin when he was president as well in 2001.
Her courage is something we can all aspire to!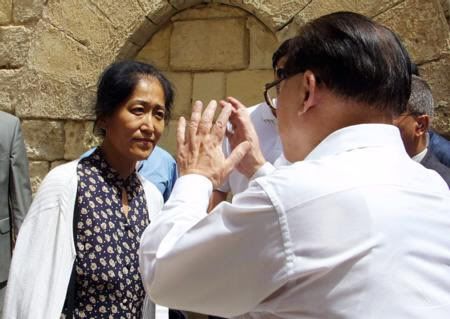 Later, Bush actually APOLOGIZED for the disturbance!
There was one pic of the Taiwan protesters that I found as well:
I hope we see more of this from the visit!