The scroll wheel on my mouse isn't working so well, and I've had the mouse for about four years now, so I figure it's time for a new one. Any recommendations?
Actually, it's not so simple. I've been to the Best Buy here in Canuckland twice already, and each mouse I brought home lasted all of two hours before I couldn't stand it anymore. Here's what I've found:
The right flank of the Microsoft Wireless Laser Mouse slants toward the desk surface at too great of an angle where your ring and pinky finger grasp it. I realize I need a more vertical right side to a mouse because I actually pick the thing up slightly when winging across the two monitors I have in front of me.


The Logitech Cordless Laser Mouse (MX620) is steeper on the right flank, but the top surface of the unit south of the logo in the photo tapers off and becomes too narrow, so that there is less area for your palm to rest upon and you have less to grasp.

So I'm back to using my Microsoft IntelliMouse Explorer 2.0, which is big and wide enough for me but lacks the nimble scroll wheel that I so desperately desire.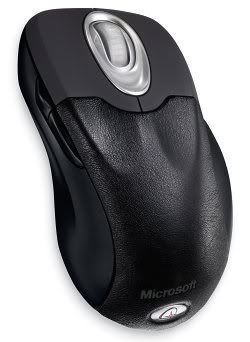 Would anyone happen to know of a new mouse out there similar to this one? Or would you have any other suggestions for me? Aside from the obvious one about me needing more in my life than an unhealthy fixation on computer mice as evidenced by my willingness to put this much time and effort into a post on an internet forum on this topic, I mean?