COOL SMS my-cool-sms.com/ - Send SMS from your PC. Quick. Simple. Cool. FREE Trial
Beachfest infos in Blog [video, pictures etc…]:[color=#0040FF]
reggaebeachfest.blogspot.com [/color]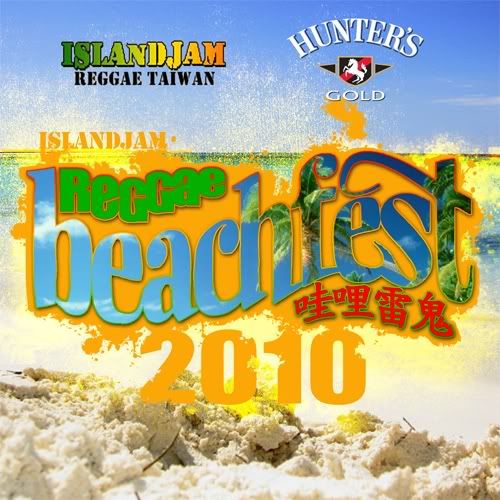 Islandjam Reggae Beachfest JUNE 5, 2010 @ Walilei - Qianshui Wan beach 淺水灣-台北縣三芝鄉北勢子12-1號
Blog [video, pictures]:[color=#0040FF]
reggaebeachfest.blogspot.com [/color]
Opening : [color=#FF0000]JUNE 5th, 2010 - 2pm [sat][/color]
End: [color=#FF0000]JUNE 6th 5am [sun]
[/color]
<< ticket @ the door>>
700nts+ 1drink
Students with student ID :
500nts+1 Drink @ [men]
400nts+1 drink [girl]
<< Advance tickets>> [where to get ticket? see below]
600nts +1 drink
Students with student ID :
400nts+1 Drink [men]
300nts+1 drink [girl]
---
Bands/singers:
Jeck Pilpil & Peace pipe [Philipines]
Carib Rocks & Miffer [Japan]
Matzka [Taiwan]
Splendor [trinidad]
Skaraoke [Taiwan]
Sunny Small [Taiwan]
Ice [Taiwan]
and more…
Djs:
Open crew [Japan] : Big H,Yahman, selectha Taro …
Selectha Zion [France]
Dj Marcus [USA]
Black Reign Intl sound system [Djs from Jamaica, Belize,Martinique …]
and more… We'll keep you updated !
<< Where to get my advance tickets ?>> //ticket available in April 15th//
[color=#FF0000]< Limited advance tickets >[/color]
Advance tickets [Taipei city/county]
Tickets are available now in 4 places in taipei city and 2 places in Tamsui [see below]
[color=#008000]< Doesnt matter where you are in Taiwan you still can get your Tickets!> Just go to Waakao [Islandjam-Tickets ] and fallow the instructions.[/color]
Link : waakao.com/en/event-tickets.
If you need more informations please feel free to email us: islandjamtickets@gmail.com
Places in taipei city /county where you can get your tickets
<< IN ALL TOASTERIA SHOP>> : " get a free drink with any purchase of a ticket for this event, at any of Toasteria's locations"
Toasteria Cafe [taipei city] :
Zhong Xiao Brunch
#2 Lane 248, Zhongxiao East Rd. Sec 4.
台北市忠孝東路4段248巷2號
(one block west of Yanji Street)
02 2731 8004
Toasteria Cafe [taipei city]:
Shi-Da Branch
Yunhe St. Alley 72 #1
台北市雲和街72巷1號
電話: 02 2365 3051
KGB burgers [taipei city]
5, Ln 114, Shi-Da Rd, Taipei City
(台北市師大路114巷5號)
Sababa's [taipei city]
No. 17, Lane 283, Sec. 3
Roosevelt Rd, Taipei
(台北市羅斯福路三段283巷17號)
Kooks [taipei county]
#12 Lane 18 Ren'ai Rd. Danshui
台北縣淡水鎮仁愛街18巷12號
(02) 2625-6161
Eddy's Cantina [taipei county]
151-1 Zhongshan Rd, Danshui
台北縣淡水鎮中山路151-1號
(02) 2628-2638
<< HOW DO I GET THERE ? >>
我要如何到達活動地點?回程有交通運輸?
By MRT搭乘捷運: Red line to Danshui(淡水) MRT . You can take the FREE Beachfest express bus to Walilei in Sanzhi township.
搭乘捷運紅線到淡水站,
出口將會有Beachfest免費巴士直達哇哩咧餐廳。
捷運出來往右手邊走到底將會看到免費巴士,
現場會有服務人員引導帶領
Upon exiting Danshui mrt go toward the bus terminal to the right and look for Beachfest bus.
Beachfest Express Bus Schedule
From Danshui mrt to Walilei:
every 20 mins : Start 1:40pm, Finish 11:30pm
從淡水到哇哩咧每隔 20分鐘就有一班車。
從下午2點到晚上11點半止
From Walilei to Danshui MRT:
every 20 mins: Start 2pm, Finish 12am
從 哇哩咧到淡水每隔20分鐘就有一班車。
從下午2點到晚上11點半止
5:30 AM MORNING bus to Danshui Mrt.
5:30AM一班車 從哇哩咧到淡水捷運站
by Taxi: Taxis from HongShuLin Mrt are more
accessible to get to beachfest and at regular rates
are roughly $200-$300NT from HongShuLin MRT.
Where's Walilei? 哇哩咧在那裡?
Take hwy 2 north towards Danshui, follows signs
to Baishawan, after entering Sanzhi township you
will pass a large sign for Qianshui Wan(淺水灣).
Go 1.6km and Walilei is on the left about 100m after
the small blue over-pass.
地址:台北縣三芝鄉北勢子12-1號
(2號公路 16.5K)
電話: Tel:02 26360851
Fax:02 26360861
walileitw.com
Food stalls and BBQ will be available from afternoon
till early evening.
for more info:
reggaebeachfest.blogspot.com
.