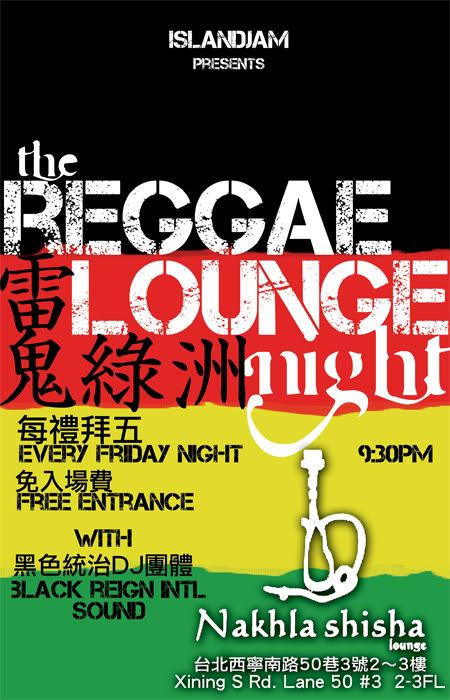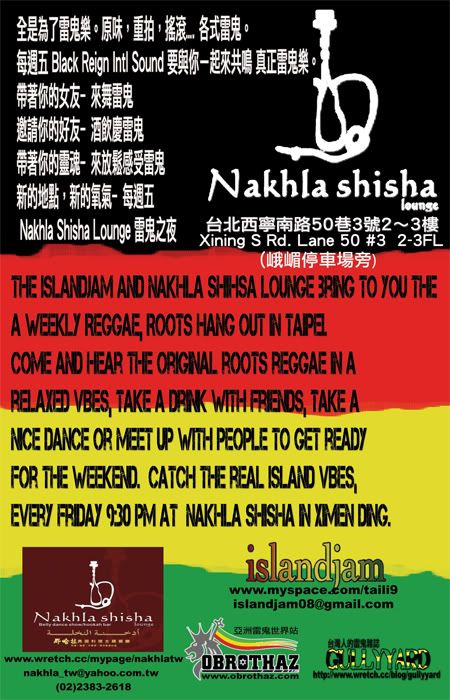 " THE REGGAE LOUNGE NIGHT" EVERY FRIDAY !! 9:30 FREE ENTRANCE !! @ NAKHLA SHISHA !!


The ISLANDJAM & NAKHLA SHISHA lounge bring to you the a WEEKLY EVENT, ROOTS hang out in Taipei. Come and hear the original ROOTS REGGAE in relaxed vibes ! take adrink with freinds, take a nice dance or meet up with people to get ready for the Week kend. Catch the real Island Vibes EVERY FRIDAY 9:30 at NAKHLAS SHISHA in XIMEN DING ! .
全是為了雷鬼樂。原味,重拍,搖滾…. 各式雷鬼。
每週五 Black Reign Intl Sound 要與你ㄧ起來共鳴 真正雷鬼樂。
帶著你的女友﹣來舞雷鬼
邀請你的好友﹣酒飲慶雷鬼
帶著你的靈魂﹣來放鬆感受雷鬼
新的地點,新的氧氣﹣每週五
Nakhla Shisha Lounge 雷鬼之夜
POSITIVE VIBES EVERYTIME !!
NAKHLA SHISHA LOUNGE
Xining S Rd. Lane 50 #3 2-3FL (across from the big parking lot, above the 7-11)
台北西寧南路50巷3號2﹣3FL
(02)2383-2618
3 min from Movie street , U will see the big Parking and a coffee shop in front Nakhlas Shisha .
Call me for details :0936952034 .
Check link: profile.myspace.com/index.cfm?fu … =199011693