Clear skies means cold start to the day, but worth it for the rest of the day.
I love the temperature dip. It's a pleasant feeling compared to the brick oven-like no discernable dip in the summer.
Guy
Nice day up on the north coast @10:45, albeit a little hazy.
No surfing, but water is clear and calm for SUP.
Best part? Nobody. Pristine, empty, quiet beach. Not a single "Wa Ga Li Gong" to be heard!
My air cleaner inside my house is a bit high. It's usually between 2-5. So, put your masks on!

The end of another very nice day, although I wish the air quality had been better today.
At least it wasn't cold and rainy.
Very strong winds and horizontal rain in Tamsui now. Be careful.
That was a very nice stretch of weather while it lasted.

Guy
The nice weather is back again.
I'm seeing 32 degrees for the high next Wednesday. I think summer is just about here.
We'll be in the roller coaster of hot and cold until well past Dragon Boat festival.
Yup, at least in Taipei and environs, we'll have a coolish weekend, followed by rising furnace-like heat during most of next week, followed by another plunge down accompanied with some rain during the next weekend and likely beyond . . . A "roller coaster" indeed!
Guy
Anyone keeping an eye on rainfall? There's been nothing significant for ages, am I right?
Yes! There is some discussion of water shortages, especially in southern Taiwan, here:
Guy
Reservoir levels:
Oh … I knew things were bad in the south; north isn't looking great either. But I have no idea how this compares to normal trends for this time of year.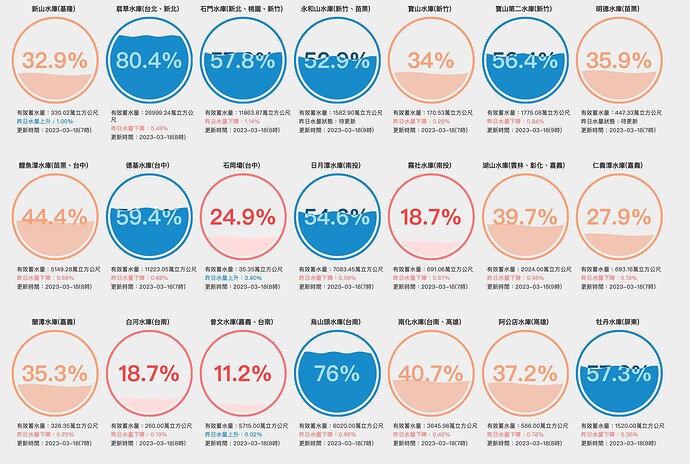 Sigh, I'm supposed to be marking, which means any question about weather data leads to a thoroughly productive (/s) online investigation. Mm of precipitation by the month in Taipei (from here), for Jan / Feb / March / Total:
2023: 28.0 / 37.5 / 3.0 (thus far) / 68.5.
2022: 122.0 / 252.0 / 197.5 (for whole month) / 571.5 (no wonder I was miserable last year).
2021: 41.0 / 46.5 / 77.5 / 165.
2020: 38.6 / 29.6 / 245.5 / 313.7.
So, yeah, lower than recent years in Taipei. I had been thoroughly enjoying that with plenty of bike rides, but now I've starting to feel a trace of concern!
Every time I think, Wow, this is pretty good weather, better than usual, invariably this also means water shortages on the island.
What I find "normal" or "good" is actually not, I have learned, what our industrial policy requires to keep industry going . . .
Guy
I'm supposed to be writing, might use my marking as procrastination

Oh heck, that's the background for my entire academic career. Er, "academic" "career".
We really need a typhoon or two, I am sorry to say.
It's been raining/drizzling non-stop for the past three days up here on the north coast. In fact, today at 13:00, it's actually not raining. Kind of cool.
Does the weather here just break forecast apps?! My iPhone is predicting thunderstorms all night. But the same screen is saying there will be 0mm of precipitation.
I have no idea what's up with that app.
I am pretty sure, however, that this is the sweet spot for weather in northern Taiwan. I am not sweating my a&& off, I am not blasting my air conditioner, I am not shivering from the damp cold in my apartment . . . I'm enjoying this while it lasts.

Guy