Havent been there. Doesnt kaohsiung have a restaraunt or 2 that are Ukrainian?
There is a Polish one, and maybe few other Eastern Euro ones that I am aware of.
Talking about Polish people, I am in Hawaii these two weeks and my breakfast sever was speaking with a Hawaiian accent. So one morning a tourist to Hawaii ask her where is she from since I guess her English has a Hawaiian accent (I thought it was not nice to ask that, since she sounds local but not looks local), and to my surprise she said she was from Poland ! So I was thinking does Polish people speak English like Hawaiian English Hawaiian Pidgin - Wikipedia,?
Living in Hawaii as an import from anywhere including Mainland USA, it helps alot to adopt some local accent.
Just makes life go more smoothly.
Are there that many Ukrainian places in Kaohsiung that it has its own own thread?
One of my favorite restaurants in Taiwan that might have some similar style food is Croation Kitchen.
Thats probably the one im thinking of haha. Dang. Not a big euro food connoisseur. Need to get more into it.
So what kind of food are you a connoisseur of?
Mexican, indian and Malaysian i am in love with. I like good strong flavor from raw ingredients. For europe, Mediterranean and into those cultures i am quite fond of as well. Nortbern afican, west asian as a whole i generally like.
I grew up on milk, beef seafood and potatoes. North western European food aint my thing. But willing to always try new stuff. If i have another apple i may literally puke.
How about you? What are your preferrences?
Very much like you! Mexican, indian and Malaysian along with Japanese and various others. But in Taiwan, only one Mexican in KHH I like, a few Indian places in Taiwan, for Malaysian better to go there (I lived in Singapore/KL for work for a short bit and miss the food). I also like local, like Taiwan-Southern local and Hawaiian local. In New Zealand where I also spend some time before COVID-18, I like the Fish& Chips also some Mexican there (Texas- for Mex is the best for me though), nothing in Taiwan for Mexican other than few KHH places, in Taipei they almost all let down to me (someone will this is great place, but I think OK or worse). Taiwan has some good Japanese places and some also bad ones. Locally, some good local food like Beef soups, dumplings and such. I do not like milktea, but do like coffee and happy there are so many coffee shops in Taiwan (a lot really !)
In KHH, also the few odd ones, like the Polish cafe, Croatian Kitchen and others.
Got a list of good euro food places in k town? Im curious about your mexican ones as well, but dont want to derail the thread.
I dream of malaysia often. Once covid is wrapped up, im outta here for a few weeks!
There is also:
貝克的烏茲別克美食 Bek's Uzbek Cuisine
The location is in the hills, bit out of the urban area.
TV Station news in Taiwan:
None of these places are "Ukrainian Cafes and Restaurants in Kaohsiung".

Guy
Yes, we should add Eastern Europe and the old USSR to the title ! I will keep my eyes open for other places and hope they can last through this hard time for eateries. If I have time I will ask the Polish place as they may know others from Eastern Europe.
Not in Taiwan but in Republic of Lithuania with many nice Ukrainian people serving nice food, anyways try this in Taiwan if you can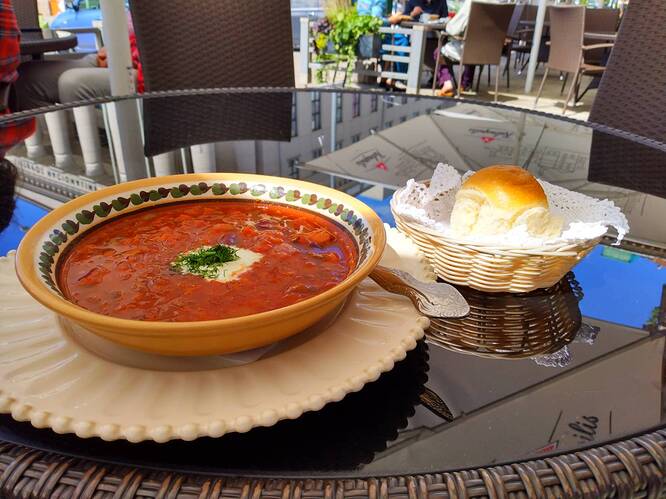 that soup looks great, nice and thick! when the weather is nicer, on the list.
edit. sorry, but confused. not in Taiwan, but in Taiwan try it?
The man is eating in Lithuania!
Guy
then how would we try it here?
maybe it's the heat. still confused…
Go to the Ukrainian place or Eastern Euro places in Taiwan. Some central/eastern Euro eateries in Taiwan have closed like 馬扎爾東歐餐館 Magyar Restaurant, so they need people to try and like the food.
Maybe go here if you have not tried, they have soups and stew like my photo (not exactly the same but like it)
Menu (croatian.com.tw)
Also try: Ural Forest European Bistro (A Polish girl workers there is nice with other staff)
ahsorry, I got it now. extended brain fart, perhaps wishful thinking they had a franchise here.
Croatian kitchen looks good. some veggie options too. can take the mixed bag family there next time, cheers.