XiaoBai is a well-behaved sweetheart who I've been fostering since February. She was found near my school in December after she'd been hit by a car. She was living in the bathroom of a woman who has five other dogs when a different woman at my school, Alice, asked me to take XiaoBai until summer as she was planning on moving to a larger apartment would be able to take her then. Well, I recently found out that Alice keeps her 6 dogs and 6 cats IN CAGES, never walking the dogs, nor even letting them play together. She even asked me why her dogs try to run from her when she's at the vet, and why the cats try to scratch her every time she puts her hand in their cages! I am not letting XiaoBai spend her life in that hell, but I am leaving Taiwan in June and can't take her with me (I'm doing some travelling/wedding stuff after which I'm entering the Peace Corps).
I looked into getting her back to the states, but nobody I know there can take her. I'm really hoping that someone who reads this can or knows someone who'll give her the great, permanent home she deserves. She's an anxious dog who is scared of the sound the air conditioners make outside and who spends the time when I'm not here on my bed. She needs a stable home and caring family, not some steel crate and a crazy lady!
Some other things about XiaoBai:
-She's about two years old.
-She's had many surgeries on her leg and is now beginning to walk and jump normally
-She obedient and conscientious. She knows how to "zhuo-shia" (sit) on command.
-She's the perfect, medium size
-Loves sleeping in bed with you
-She's remarkably well house-trained
-Her favorite activities include playing ruthlessly with her toys, and cuddling next to you on the couch while you're reading a book.
Please, if you know of someone who might be able to give XiaoBai a good home, pass the word along. Also, if you know of a place where I can report Alice, please tell me! Is it even illegal here to keep pets so confined?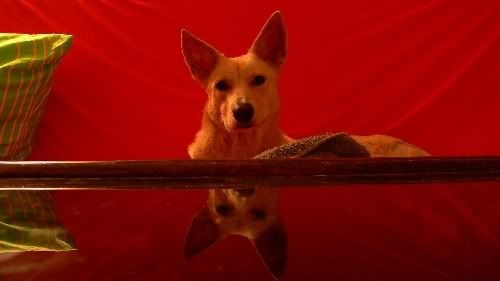 [/code]