[color=darkred]Hi Everyone!
Check out details for BARK's upcoming fundraiser "PARTY for POOCHES".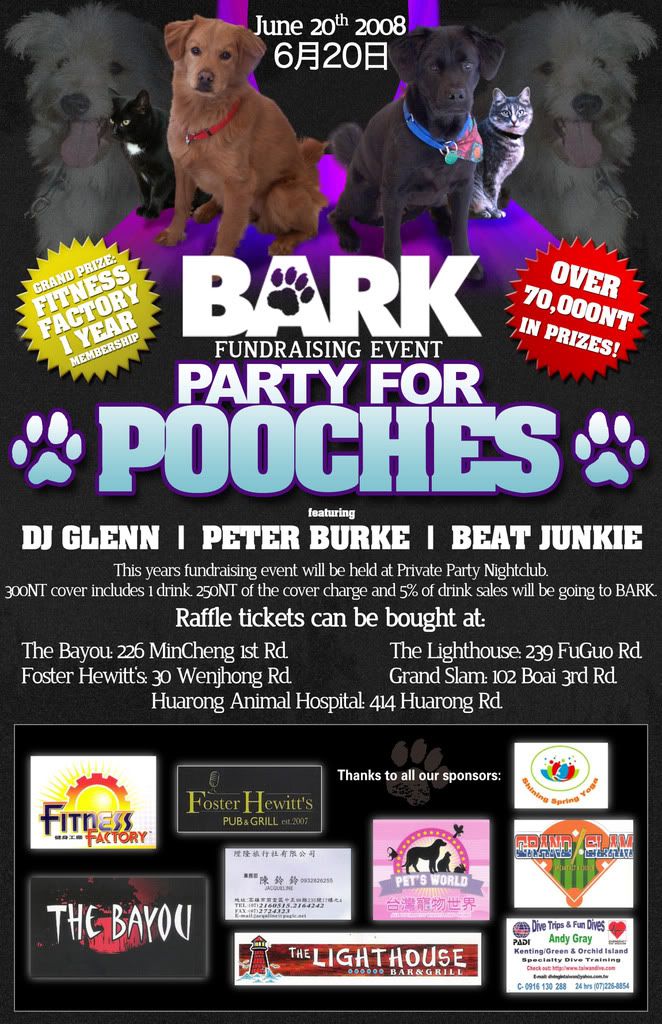 We are currently selling raffle tickets and you are going to want to buy some because we've got over $70,000nt in prizes!
You could be the lucky winner of:
1 Year Fitness Factory Membership
Valued at $30,000nt
Free Flight to Macau Valued at $8000nt
Scuba Diving Discounts Valued at $12,000nt
Yoga classes Valued at $6000nt
Massage and Cosmetics Valued at $4,000nt
VIP cards for Pet's World Valued at $5000nt
Professional Photography by Alex Williams
Valued at $4000nt
Gift Certificates to Foster Hewitt's
Valued at $1000nt
Gift Certificates to The Bayou
Valued at $1000nt
Gift Certificates to The Lighthouse
Valued at $1000nt
and more!
So, we hope that you will join us at PARTY for POOCHES on June 20th at
Private Party Nightclub at 10, SihWei 4th Road, B1, Kaohsiung.
$300nt cover charge includes 1 drink. $250nt of that will be donated to BARK
along with 5% of total drink sales.
What a great excuse to go out for a night and party!
You can purchase tickets at the following locations:
The Lighthouse
The Bayou
Foster Hewitt's
Huarong Animal Hospital
or contact me.
At only $100nt each, tickets are selling fast so get 'em while you can!
Thank you all for your support!
–
Natasha@BARK-Taiwan.org
www.BARK-Taiwan.org[/color]