Have a look at these optical illusions and add some of your own favorites.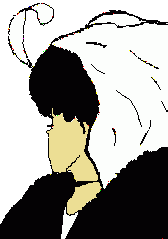 Warning- Dont try this after a big night out!
Nice one CS… nearly fell off my chair a few times lol
Do these count?

I didn't think it works on mobile…


Stereograms!
When I was a kid, I had a book about them and I absolutely loved it!
Here's a cute one :


Forget it. It's not about mobile, it's about my eyes.
I was never able to see Magic Eye images!
Well, c'est la vie…
There are different ways to see them, some work better for different people. Give them a try and see if it makes any difference!
This is trippy, there is just one curve?
I don't think there are any curves.
How can you trust someone literally named Rickroll?
Threw a curve ball again, did he?

I don't understand. I don't see anything in those images…
Edit: after having done extensive research, still no idea. I will add it to my list of failures.