From the chart it looks as if it might be an excellent time to get back into gold or it's poorer cousin, silver.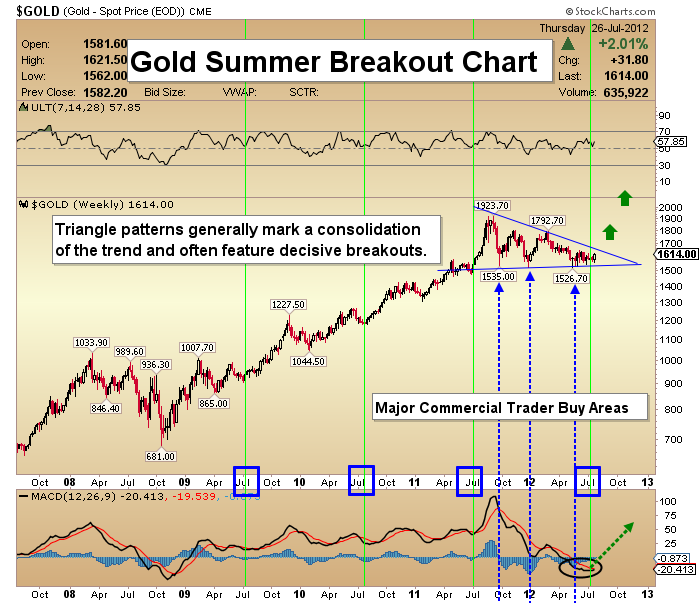 Although some may say sold is too pricey at current levels of between $1550-$1650, others argue that it's cheap at these levels and could go as high as $10,000 oz.
The Aden sisters, famous for their Aden Forecast has this to say about gold:
Gold has been moving within a mega upchannel since 1970 and still has a ways to go before reaching the top side of this mega uptrend. How high is anyone's guess but were gold's price rise to match the 2300% rise realized in the 1970s (and our research suggests we could see the start of the bubble phase by next year) we'd see a $6000 gold price, which would blow the gold price well above the mega upchannel.

Compared to the gold bull market of the 1970s and the Nasdaq bull of the late 1990s, this current gold bull is not even close to finished. So far gold has only risen 490% from its 2001 lows. The Nasdaq increased 1500% in its hayday.
If you want to invest in physical gold check out a good Taiwanese website: shiny.com.tw. Use GoogleChrome to translate the pages to help you navigate the menus.
Premiums on American Eagle / Canadian Maple / Australian Kangaroo 1oz coins 9%. They also buy back from you at close to the spot price. They store your bullion free of charge or they deliver. They have branches in Taipei, Taichung, and Tainan.
Would love to hear your thoughts and ideas on the gold/silver market.