While Neocons remain in power, extradition won't even remotely be successful. If a morally-bound US leadership did actually honor the request (maybe in 2008 or 9?), I doubt it would help Neocon-GOPers advocate their misleading "protection of human rights."
Catholics should start asking, "Why would the Vatican solicit Kissinger's counsel?" Contradiction in values? Certainly no one will call the Holy See a terrorist organization (unless they have oil or switch from US Dollars to the Euro?), but surely the Pope knows Kissinger is a proven liar and a wanted criminal for terrorism across the globe? (Catholic Register - Kissinger to Serve As Papal Adviser?)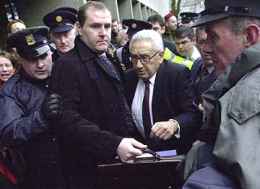 [quote]Kissinger's extradition to Uruguay sought over Operation Condor
AFP, Sun Mar 25, 3:00 AM ET
MONTEVIDEO (AFP) - An attorney for a victim of Uruguay's 1973-1985 dictatorship has asked his government to request the extradition of former US secretary of state Henry Kissinger over his alleged role in the notorious Operation Condor.
ADVERTISEMENT
Condor was a secret plan hatched by South American dictators in the 1970s to eliminate leftist political opponents in the region. Details of the plan have emerged over the past years in documents and court testimony.
The Latin American dictatorships of the time "were mere executors" of a "plan of extermination" hatched in the United States by a group led by Kissinger, said attorney Gustavo Salle, who represents the family of Bernardo Arnone.
Uruguayan prosecutor Mirtha Guianze has received the request and is studying the case, according to news reports.
A leftist activist, Arnone was arrested in October 1976 and flown to Argentina with a group of political prisoners that vanished and were presumably executed.
Kissinger played a dominant role in US foreign policy between 1969 and 1977, and was a strong supporter of right-wing regimes across Latin America.
The extradition request comes as the topic of rights violations during Uruguay's dictatorship is making headlines again, with Salle citing evidence from declassified US State Department documents.
Witnesses are set to testify in April in a case that began in September against eight retired regime officials over rights violations.
[quote="Henry Kissinger said (not"]"Today Americans would be outraged if U.N. troops entered Los Angeles to restore order; tomorrow they will be grateful. This is especially true if they were told there was an outside threat from beyond, whether real or promulgated, that threatened our very existence. It is then that all peoples of the world will plead with world leaders to deliver them from this evil. The one thing every man fears is the unknown. When presented with this scenario, individual rights will be willingly relinquished for the guarantee of their well being granted to them by their world government."
– Henry Kissinger speaking at Evian, France, May 21, 1992 Bilderburg meeting. Unbeknownst to Kissinger, his speech was taped by a Swiss delegate to the meeting. [/quote]
"Out of the sorrow of September 11th, I see opportunity."
– President Bush, October 29, 2001
"See, in my line of work you got to keep repeating things over and over and over again for the truth to sink in, to kind of catapult the propaganda."
– President Bush, May 24, 2005 in Rochester, NY.
Why was a proven liar and wanted man appointed by the White House to be in charge of the 9/11 investigation?
– Henry Kissinger