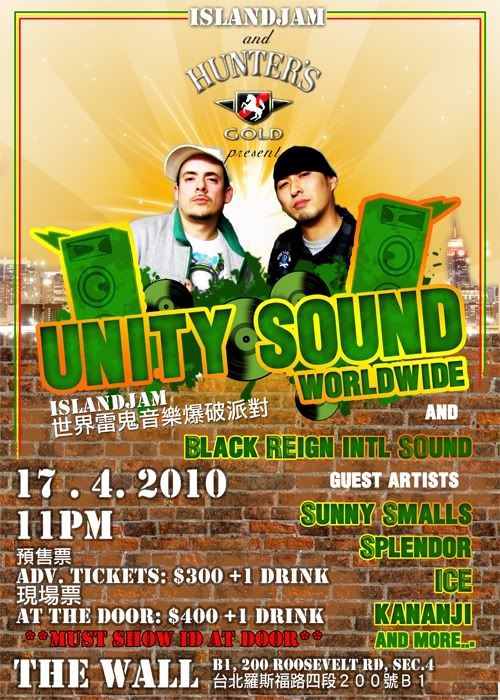 April 17 < Islandjam and Hunter's Gold present Unity Sound Live for the first time in Taiwan> Unity is a worldclass sound system playing all the best in reggae. The sound has branches in Atlanta it's home, UK and now in Japan. They have played with some of the biggest sounds in the buisness like Black Kat, Bass Odyssey, Stonelove and more. They have also opened shows for the likes of Beenieman, Sizzla, Luciano, Shaggy and more. The sound juggles all forms of reggae from dancehall to roots and classics. They have become known for their mixtapes and smooth style. You don't want to miss this special event!
國際籍的雷鬼音樂dj團體,是一個全國性的音樂團體,在美國亞特蘭大,日本,牙買加各地都有分公司,合作對象如:Beenieman, Shaggy, Buju Banton, Sizzla, Luciano, Baby Cham …….等等還有更多。他們製作的音樂唱片,在世界各地銷售成績是很棒的,也常到牙買加這個雷 鬼音樂的勝地表演如;FAME FM,而且在日本已經奠定了他們的音樂知名度,播放的曲風Reggae Dancehall,
400 nts+1drink - door open 11pm << SHOW your ID @ the door !!>>
Address: B1, 200 Roosevelt Rd Sec 4, Taipei (台北市羅斯福路四段200號B1) thewall.com.tw/home
GET ADVANCE TICKET [300nts + 1 drink ] /購票時間地點:
<< IN ALL TOASTERIA SHOP>> : " get a free drink with any purchase of a ticket for this event, at any of Toasteria's locations"
Toasteria Cafe:
Zhong Xiao Brunch
#2 Lane 248, Zhong Xiao East Rd. Sec 4.
台北市忠孝東路4段248巷2號
(one block west of Yan-Ji Street)
02 2731 8004
Toasteria Cafe:
Shida Brunch
Yun-He St. Alley 72 #1
台北市雲和街72巷1號
電話: 02 2365 3051
KGB burgers
5, Ln 114, Shida Rd, Taipei City
(台北市師大路114巷5號)
Sababa's
No. 17, Lane 283, Sec. 3
Roosevelt Rd, Taipei
(台北市羅斯福路三段283巷17號)