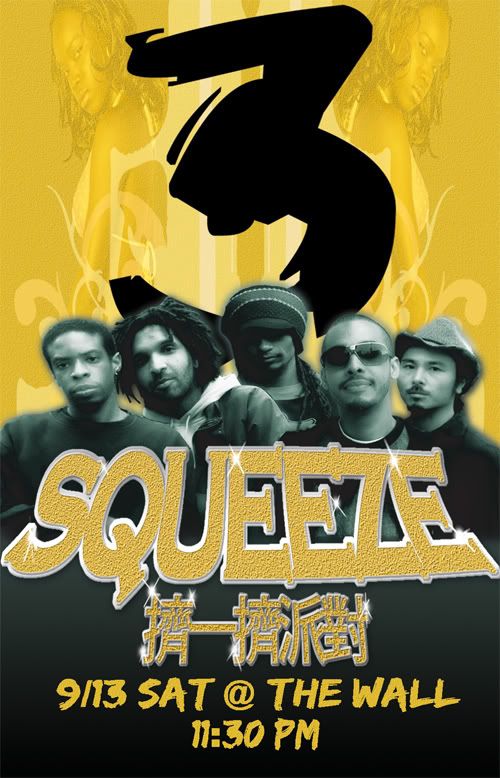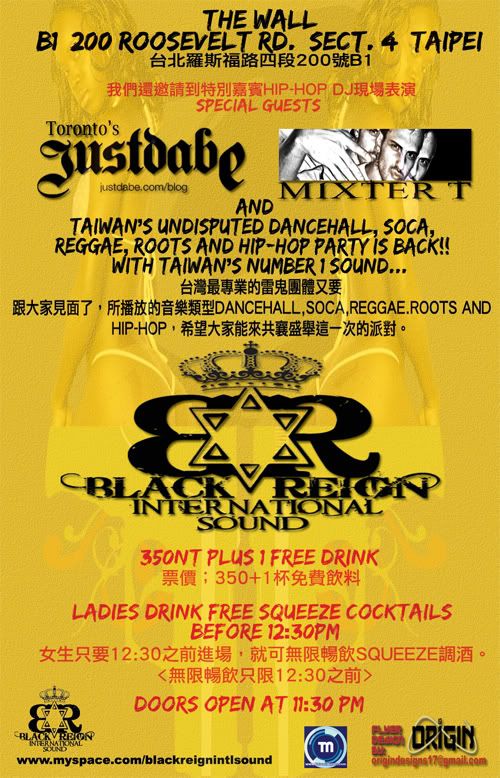 各位朋友大家好,我們是BLACK REIGN很高興的要跟大家見面囉!我們將於9/13在THE WALL舉辦SQUEEZE3派對,歡迎大家共襄盛舉。進場時間11:30pm,還有女性朋友12:30pm之前進場,就可無限暢飲SQUEEZE調酒。<無限暢飲只限12:30pm之前>播放的音樂類型DANCEHALL,SOCA,REGGAE,ROOTS AND HIP-HOP不要錯過喔。
Taipei's Biggest Reggae Dancehall Session is back at the Wall, Saturday, September 13th at the Wall. SQUEEZE 3. Good things come in threes and this one will see Black Reign Intl Sound alongside special guest DJ's out of the US and Canada, Justdape and Mixter T. Hip-Hop and Dancehall Reggae Vibes in Combination! All Ladies will get free "Squeeze" Cocktails before 12:30am so get there early! If you have never been to Squeeze to experience the best and most original Jamaican Dancehall Session, now is your chance!
For more Reggae info visit:
justdape.com/blog
myspace.com/blackreignintlsound
myspace.com/obrothaz
Some of the latest Reggae Videos here:
Movado-Top Shotta Nuh Miss
tw.youtube.com/watch?v=LN_FOIQXQBM
Serani-Mama Still Hungry/Stinkin Rich
tw.youtube.com/watch?v=HE2QrSkQ_8I
Little Soca for you-Marshal Montano
tw.youtube.com/watch?v=1xETyczXqVM
Need to know some dance moves for the party from Elephant man? Learn here…(funny!)
tw.youtube.com/watch?v=79K8MrZwH … re=related
See you in the party!!