We will be showing short films and video art at Art Taipei 2009,
so we decided to have an ICE CREAM PARTY! With sprinkles,
chocolate syrup, and maybe some booze.
The Ice Cream Party is Sat, Aug 29, 4:40 - 6pm. Get there early!
Also, if you're coming, please join our Facebook event, so we
know how much ice cream to prepare. Also, don't forget to check
out the art. Around 100 galleries from around Asia will be showing the
latest contemporary works from scores of artists. It'll be rad.
Art Fair Admission: NT$200/ $150 students (ice cream is free)
Location: Taipei World Trade Center (Area A&D), Xinyi Rd, Sec. 5
Art Taipei 2009 website: art-taipei.com/ENG/event.html
The rest of the schedule is as follows:
8/28 (五) Friday 17:00-18:00
COSPLAY

Even when we hate cosplay, we LOVE cosplay!! This section includes
short films by Mia Chen and two other directors. The cool thing about
Mia Chen's shorts is that even though she comes at Cosplay from an
academic background, she stays away from analysis and heavy
theoretical framework that would kill her subject, and instead focuses
on getting into the heads of the kids she meets. What Chen does is
show the imaginative process of these teens go as they dress like
their cartoon heroes.
【Into Cosplay】同人人
Mia Chen 陳明秀/ 2007/ Taiwan/ 7min/ no dialogue 無對話
【I am That: Cosplay】我擬她
Mia Chen 陳明秀/ 2009/ Taiwan/ 7min/ En/Ch (英/中)
【Spiderman Paratoon】啪啦通
Mia Chen 陳明秀/ 2008/ Taiwan/ 3min/ no dialogue 無對話
【Today's Cosplay】
Loren Von Hogue/ 2007/ Taiwan/ 6min/ En (英)
【On the Japanese Doll Complex】
Katrien Jacobs/ Hong Kong/ 18 mins/ En/Ch (英/中)
What kind of Japanese doll would you like to buy and live with, if you had
the opportunity? In this docudrama, the gifted doctor 'Madame Remedy'
(Nam Kung) highlights Chinese people's search for otherworldly alter ego's.
Madame Remedy points to a wide variety of cases where people seek the
innocence and gender-fluidity of dolls, to embellish or alter the greyness
of the everyday. She illustrates her case-study by showing snippets of
the lives of Kigurumi cosplayers, Adult Video movies, fans of Boy Love
animations, and owners of Ball-Jointed Dolls. Males and females alike
explore Japanese excess as commodity exchange and identity transformation,
falling in love with dolls or doll components in ways that are least expected
8/29 (六) Saturday 16:40-18:00
Bu Hua 卜樺 + ICE CREAM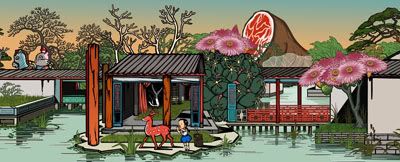 Bu Hua got her chops in the China's flash animation web sites, a free-trade
zone for ideas that's a universe unto itself. Even though we have been
showing her work for the last two years, it's not just that we love her
stuff. In 2008, she was invited to show works in the Pusan and Shanghai
Biennials, and she has lately been comissioned to create a music video
for legendary Beijing indie singer Zuoxiao Zuzhou.
節目 // Program
野蛮丛生 / Savage Growth / 3'52"
猫 / Cat / 5'30"
病之城 / Sick City / 7'05"
青春有害健康 / Youth Does Harm to Health / 3'18"
未来荒 / Last Phases of the Future / 3'08"
慌慌 / Anxiety / 3'25"
人造仙境 / Manmade Fairyland / 25'
8/30 (日) Sunday 17:00-18:00
The Yes Men Go Surfing
The Yes Men are a duo of media jamming activists, who among other things,
have posed as representative of Dow Chemicals in an interview with
BBC World, then told the world they would put US$12.1 billion to compensation
and cleanup of the 1984 Bhopal gas disaster, the worst industrial accident
in history. The Yes Men have two feature films to date (check the trailer for
the new one below). For this segment, they've given us a selection of rare
clips and outtakes, some of which have never been seen before. We've made
a mashup of these, throwing in a couple of surf/skate videos for flavor.
8/31 Monday 13:00-17:00
YOUNG TAIWANESE VIDEO ARTISTS
– selections of video art and experimental
film from the 2009 Urban Nomad SECOND SCREEN program.
9/1 Tuesday 13:00-17:00
URBAN NOMAD OPEN MIC
– our faves, i.e. the coolest load of crap you've ever seen.