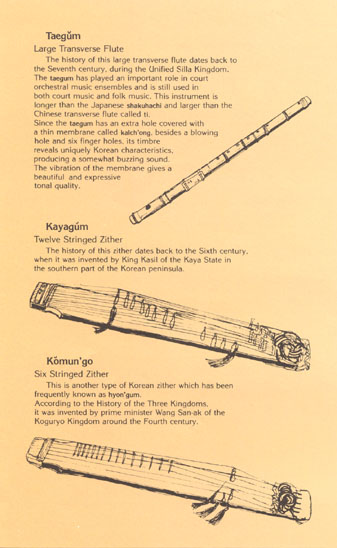 I can't find a better photo than this drawing. When I lived in S. Korea, more than 10 years ago now, I bought a very simple Taegum–the exact same type that all the school children were required to buy and learn to play Arirang on–at a shop near a school that catered to young students. I leaned to play it rather well actually and really enjoyed it.
Almost six years ago now, my husband "accidentally" threw it away. I had a small collection of bamboo flutes, but only played that one. That one is the only one he threw out! Anyway, I really, really miss it and lately, especially, have been feeling the need to play again.
This instrument is different than a Dizi. It's less refined and has five holes in front, one in back. I think it cost me less than 10 $US. Anyone in S. Korea and willing to send one? I'll cover your costs and hassle. Anyone have one they don't use? Any other ideas?
I attempted to make one once, but I don't have a drill long enough to clear the joints inside the bamboo stalk.
Thanks!