John Paul Jones
One of my early heroes, based on a book I read in elementary school, was John Paul Jones. I didn't know much about him except he was a naval hero in the American revolution and in one famous incident he was getting thrashed in a cannon battle with another ship, his main mast had been toppled, his ship was burning, full of holes and rapidly sinking, when the captain of the other ship asked if he was ready to call it quits and he replied, "I have not yet begun to fight." Turns out he wasn't such a pristine hero, but I didn't know that then.
en.wikipedia.org/wiki/John_Paul_Jones
Harry Houdini
I was really into magic tricks as a kid, so another hero was the great escape artist Harry Houdini, who could get out of any combination of chains, handcuffs, straightjackets, etc, often while suspended upside down from a tall building or while submerged under water. He was cool. But then he died after some guy punched him in hte stomach really hard, to test his muscles, when he wasn't prepared for it.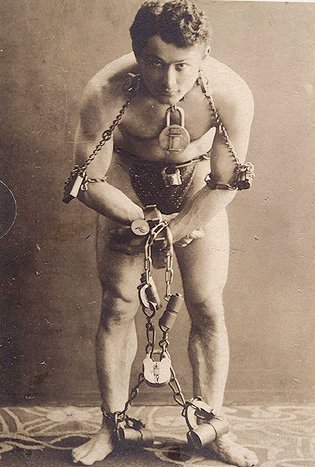 Dan Gable
Then in junior high school, I became a wrestler and for years my hero was Dan Gable, the greatest wrestler ever (at least the greatest US wrestler ever). Gable never lost a match all through high school or college until his final match in the NCAA finals in his senior year of uni, and went on to an outstanding international career, olympic gold medal (with none of his opponents scoring a single point against him), and extremely successful coaching career at U of Iowa. Dan was the Man. I realize non-wrestlers think the sport looks a little gay, but you just don't understand. Dan was tough. He was unbeatable and he inspired legions of young wrestlers, including me.

How about you. Who were your childhood idols?