Credit rating builder, and the most foreigner friendly credit card supplier in Taiwan
They're accepted at major places. Also mine is no annual fee as long as I spend (can't remember how much now but it was a really low amount $30,000 or something) per year.
Also the fact that credit card transaction fees aren't a thing here helps. In oz I wouldn't use an amex much because most shops pass on the transaction fee to consumers whereas they absorb other card fees.
Mostly I love their customer service which a sales pitch on its own considering how other banks treat us.
Feel free to share your credit card success stories with more detail in this thread:
Me and my wife just both applied for probably the best credit card going in Taiwan right now: The Fubon Omiyage Card. It's JCB, so not so useful abroad, but domestically you can get 3.5% back when you pay with LINE pay, or 2% if you swipe the card normally. Additionally, payments made in installments are interest free for 12 months, and the annual fee is waived if you receive bills digitally.
I only just yesterday received my AMEX, so I still have little to no credit history, so I think Fubon will decline me.
But this is an experiment of sorts to see who the bank will favor, me (foreigner, employed in a top Taiwanese tech company) vs my wife (Taiwanese, unemployed but huge cash savings in the bank).
They might decline us both, we will see.
excellent service, no hassle cuz you are foreigner. accepted in most places
I talked to someone at CTBC about this problem. I found that they don't use a foreigner's actual ID number for online identification, though other banks seem to, but they use the birthday, part of the family name, and an additional letter. That's for the bank account. For the credit card account, the online ID is the same minus the additional letter. So the credit card won't appear on the same app or online banking (I was told) because the IDs don't match. However, it should be possible to open a second online banking account using the credit card used ID number. Possibly another app as well if you have two phones. I haven't tried this yet, but it explains the problem. I did try to login for a special cash back offer last week and found that my savings online banking ID was too long by one letter. In frustration, I just hit enter, and it worked anyway, so it should work to open another online banking account just for the credit card.
Has already successfully applied for the China Airlines / CTBC Co-brand card?
Just at Cathay United updating my ARC number and the counter woman is encouraging me to apply for the Costco credit card.
So applying just to see what happens
This is absolutely correct. This is the reason I rarely use CTBC, I am still trying to merge savings and cc into the same app since updating to TW ID.
Just received an email from Fubon telling me they have received my application and it is processing. There was also a link to track my application:
After logging into the site it says my application status is: "call customer support for an explanation".
So I called the number and gave my details and they said that my application is all normal and still processing. She confirmed that they had received all my documents as expected.
It's strange because my wife who applied at the same time as me, and recieved the email about 30 minutes before I did, has this as her status: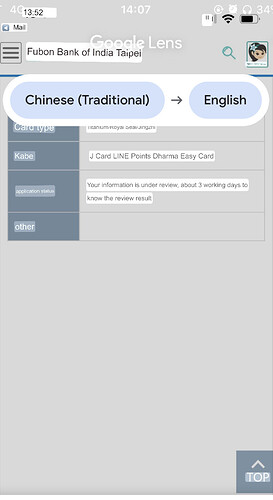 not an expert, but my best guess is that your ARC number format wasnt properly "digested" by the system
Quite likely, as their online status checker page can't find my application status. It can't find any other info related to my application either, so…
Guess I'll just need to call them every day xD
I had the same problem when I applied to CTBC. There's was some rule about foreign nationals. I heard it has something to do with a regulation about storing our information online, although many websites do this. Maybe it has to do with layers of protection.
I waited several days and got a call to confirm my information. A little before or after that I got a message that application process had been completed, and a few days after that that the card was on its way. If Fubon is like CTBC it comes registered mail, so you need to sign for it.
Have you managed to get the Cathay app to work in English? I'm on iOS, and the App Store says it has English, and there is an even an option in the iOS settings for the app to change to English, but it doesn't actually change anything.
im on android and its CN only.
So, me and my wife both applied for the same Fubon credit card, since it has good cashback, but also as an experiment to see how anti-foreigner they are as a company.
My wife, who has been unemployed for three years was accepted, no questions asked, and by only supplying her bank book as evidence.
Me, who is employed by one of Taiwan's top tech companies, showed 3 months payslips, tax statement showing my salary for all of 2021, investment statements, and my bank book, was declined. Well, they didn't decline me, they asked for a guarantor… which obviously I'm not gonna agree to. Fucking pointless waste of time. I asked why I need a guarantor, and they are going to ring me back with an answer. Oh well, at least I'll have an opportunity to argue with them.
The cherry on top is I'm already a Fubon customer paying them close to 100k a year in various insurances. Well, they're gonna lose that business from me.
To say I'm pissed off is the understatement of the fucking year. I am never letting this go
Does anybody know, how illegal is it for me to defame a company, for example if I wanted to print some t shirts with "Fuck example company", how bad could they sue me? What if I made some signs to hold outside their office, would that be pushing it?
You could probably sell those at a night market for cheap and let other people do that for you.
I think it should be your next project to find out and report back to us