This story in the TT today never mentions the FACT that these "teachers" are members of a weird Christian cult in the USA led by a strange cult leader. Why did the story not mention this even once, even as an aside? Totally irresposnible reporting and a blight on the entire TT reporting staff. I wonder if anyone there can tell us how this happened?
[url=http://www.taipeitimes.com/News/taiwan/archives/2003/03/16/198238]Taking the art of English to the mountains
A group of young Americans are helping boost the English skills of children in some of Taiwan's most remote schools and bringing a little bit of international flavor to these far-flung communities…[/url]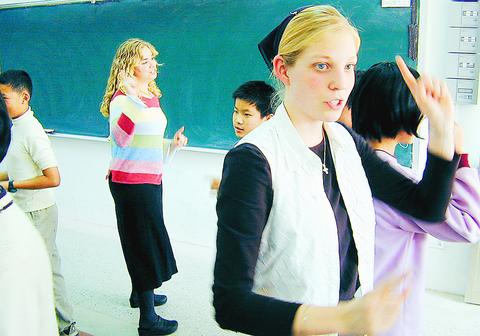 Michelle Reed, left, from Texas, and Juliana Johnson, right, from Pennsylvania,
sing and dance with students from the Yongle Elementary School in Zhongliao
Township, Nantou County.
PHOTO: CHANG YUN-PING, TAIPEI TIMES
This is the guy who runs this teacher thing. HE says:
What I Believe
I believe in the one true and living God, Who, by His sovereign will and for His eternal glory, exists in three co-equal and co-eternal persons. (II Corinthians 13:14, I John 5:7, I Peter 1:2, Hebrews 11:6)

I believe that the Bible is the inspired, inerrant, and infallible Word of God and the ultimate authority in all matters of faith and conduct. (Exodus 32:16, Jeremiah 30:2, II Timothy 3:16, Numbers 23:19, II Peter 1:16