I don't know if there's a 'scientific' name for it, but it's referred to as tramlining. The super easy thing to check is your tire pressure; cars are more prone to it when overinflated. Also get your alignment checked; extreme camber and / or toe will affect this.
I know that but I'm talking about design elements
They can tune a car to center or to not center
The TT is brand new and. All tires to spec
It doesn't like to center sort of how fighter planes are inherently unstable to make them change directions very fast
Same with the TT it's very highly maneuverable
My Acura was old and liked to veer right
So it definitely needed alignment and new tires
But when it was new it also didn't like to go straight
You had to keep it straight
As it liked to corner left and right all day long
Just the tiniest pressure in the wheel
And it would turn
The TT is not as determined to turn as the Rsx was
This suspension guy tuned my Telstar to center aggressively
I liked that
Oh fyi it pays to shop insurance
Farmers and triple A initially quoted me 5800 a year
I got Geico to go 3200 a year almost half as much
So… unless you've had it checked, you don't actually know that. ;D I don't think most (any?) manufacturers do an actual alignment check during PDI (the ones I've seen "check" for alignment by noting pulling on the road test - it's gotta be pretty bad at that point). It's not unheard of for new cars to be pretty bad there (Honda had to provide an alignments for type Rs. My golf r (same mqb platform as your tt) scalloped $2k worth of tires on a factory alignment within 10k miles).
Boy, we have different ideas of when a car that likes to turn.

We had an RSX as well. It was really very ok going straight. Definitely didn't just turn with the tiniest pressure on the wheel - it was a front wheel drive vehicle that was factory tuned with understeer. If you think the TT is less determined to turn than an RSX, AND you think it's highly maneuverable, I hope you get some good seat time in those rear engine 911 or mid engine caymans you're talking about. ;D
I definitely wouldn't mind a lot more seat time in an 911 or Cayman that would be pretty fun
Fairpoint that a car may still be out of alignment brand new from the factory
I'm still discovering the TT of course having only spent a couple days with it but I like to think that I know my Acura pretty well having spent near 18 years with it and having gone about 280,000 miles in it
My Rsx now yours may be different because they're not all exactly the same but mine has always not wanted to go in a straight line it would veer left and right with the slightest provocation the slightest road Imperfection or slant . It simply did not like to go straight I found that if I use the 33 psi in the front as recommended and 31 psi in the rear the car would be quite jittery it wouldn't feel stable it would track left and right on the lanes of the freeway with the slightest pressure I generally got them aligned only when getting new tires
Very jittery and the ride was very harsh so harsh I would wait 30 mins after a meal to drive it
So I ran the fronts at 30 psi and the back at 28
And the car settles down and actually wore more evenly
At recommended it would wear in the center
And I found since I don't like to rotate tires i would put two new on the rear and what was on the rear would have some 70k miles on them and I would use them in the front for another 5 to 10k then move the back up and two new on the rear
The TT is much better behaved than the Rsx but I really liked what my suspension guy in Taiwan did to the Telstar
That car liked to track straight and you had to push it through turns
In the Acura I spent my time keeping it straight with very slight pressure driving with both hands
Sort of like a planes autopilot nudging it slightly left and right constantly to keep it in the middle of the lane
My Rsx is of course not mine anymore as I sold it
And I miss it a little but the thought of all the thingsIt needed fixing makes me happy the new owner is a mechanic
Sold AS IS nothing promised or implied
Make sure you get them to send you a free gecko Geico doll for the missus.
We got a small one at some festival. Children think it's cool.
Visited Mademoiselle Collette cafe in Redwood City
A little bit of Paris in redwood
City

Ham and cheese thingy with drip coffee
12 bucks thanks
Tartlet or any pastrie your choice
All 10 plus tax and service each thanks again
Drove by the McLaren store in Palo Alto
Went in for a quick look
Parked my new TT there sheepishly
A sports car among SPORTS cars
Prices not even on the cars
If you need to ask you can't afford it
In fact just don't bother asking
Well back in SF did a run to Palo alto to see a friend then back via half moon bay on highway 1
Pretty cool driver the TT
Now I gotta do mundane shit like the laundry
Gotta find a laundromat round my new digs
You moved recently I gather - news probably obliterated by the TT. Closer to work, or just nicer area?
In SF on a good deal on bigger digs
Missus Tommy learning how to swim finally
Indonesians like Taiwanese are surrounded by oceans and yet few can swim
Schools don't have pools I guess
My TT was 53k MSRP
The golf R is a much better deal at some 46k
Because it uses the same mechanicals as the TTS which is about 65k
I would prefer the Golf R but that's NOT what the missis wants
She wants a TT period
The TT was never produced in great numbers because of its relative lack of a deal
I was told they they made roughly 15000 TT coupes a year and about 7500 TT roadsters a year. By comparison Ferrari makes about 7500 cars a year I'm told
The TT I have is similar in price to the new S3 which has the performance of the Golf R and a lot more features
Including wireless
CarPlay and memory seats and adaptive cruise and lane assist
The wife's retort was
The TT is a personal car not to be driven by others than herself and so no need for memory seats
And she didn't want the car to drive
Itself which is in her view pointless to get such a car and not drive it
Fair nuff I guess
The R8 does NOT have lane assist or adaptive cruise or memory seats or wireless CarPlay either
She says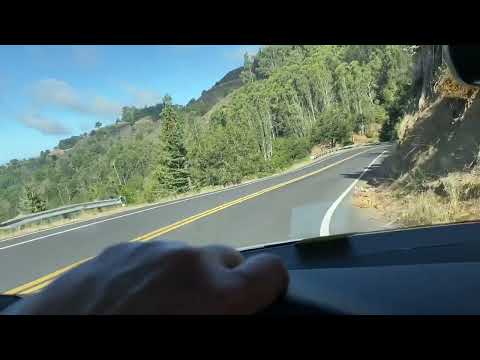 Kinda like driving the Miura in the Italian job
Kinda sorta
At least no fiery end with a bulldozer in a tunnel
I'm liking this thing
Don't want to give it to the wife now
But I gotta
Down the hill to the Hobo cafe (that's not what the owners call it just me and my buds as there is often a hobo or two …other than ourselves hanging around outside) the clientele are
Pretty chill
Upper middle class except for me of the near hobo class
A scone warmed up with whipped butter and apparently home made
Jam and a big bowl
Of hot chocolate that the waitress seemed
To have stuck the tip
Of
One finger info as it's a bowl
And hard to carry
But hey at
12
Bucks I pretended not to notice
No I do not want to know where that finger tip has been
were you shopping for some shoes, though?
I was looking for the Subaru store and walked past the Mac store
Prices a tad different
Think I was in the wrong neighborhood entirely