Shadow and Bone
Netflix
Adapted from a series of books
Think Witcher meets sci-fi meets steampunk
Pretty good so far.
Manifest
Messiah
Cobra Kai
I liked this. Finished watching in 2 days
Only Murders in the Building.
Episode 3. It's ok. Martin Short is gd deadpan hilarious.
I really liked this Cobra Kai season. It will be hard waiting another year for the next one.
Now I'm watching Aggretsuko's new season and Komi can't communicate.
Cobra Kai season 4 8/10
WandaVision 9/10
Both highly enjoyable. Why the different scores? WandaVision sticks with you a lot more, especially certain shocking scenes and musical numbers. The woman who played Agatha gave probably my favorite TV performance of the last year. Cobra Kai is a lot of fun as usual, but it's ultimately kinda fluff. I finished it less than a week ago and have already forgotten most of the plot developments from it. Loved seeing Terry Silver though.
I'm rewatching Altered Carbon,
Started Tokyo Trial on Netflix, a procedural drama about the post-WW II trial of Japanese officials for war crimes. A documentary thinly draped in a drama, virtually no action but interesting pieces of information and moral doubts disseminated throughout.
I finished the Sopranos almost fifteen years after the show ended! Six seasons , 86 episodes, 50 mins each.
I tried to watch it back when it came out and couldn't get into it. Now that I was the same age as Tony in the series I could really relate to it a lot more. Family dynamics. Aging. Keeping the show on the road. People getting sick and what not. Mental health. Addictions . There's a lot packed into it.
What an ending eh.
Some great characters , Paulie, Sil , Chris, Carmela, Junior , Janice . Memorable show.
Never seen and episode. Never seen an episode of GOT either. Such a commitment to get into.
I hated the ending originally and now think it's quite brilliant. 15 years later it's still hotly discussed, so it was doing something right.
Mad Men
I never really watched and doesn't seem very popular now for newbies or as a re-watch.
Probably better during the hype everyone's talking about it phase.
Wondering
Wondering what?
It's a good show. Probably not for everyone though. Good to have an understanding/appreciation for that era of American history as it leans on its setting pretty heavily.
Would I ever rewatch it? Probably. But there's a lot of good shows I haven't seen for the first time before I start going back to old shows I've already seen.
Paulie Walnuts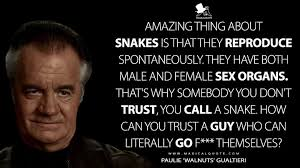 Never. Not even one episode.
The Return of Sherlock Holmes
Jeremy Brett, BBC series is on a couple times a day on MOD Channel 620 HITS.
I actually watched the whole show twice. Thoroughly enjoyed the seemingly accurate depiction of the 60s, the decadence mixed with Revolutionary-Road-like angst, and the unglamorized corporate world.
Yesssss! Jeremy Brett was such a brilliant Holmes. Brett was a bit nutty himself.
I'm currently luxuriating in the 90's versions of Maigret, starting Michael Gambon. It's absolute heaven.